Arai RX-7 Corsair Motorcycle Helmet Size Large Good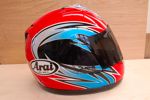 Description
---
This used helmet is in good condition but IT NEEDS NEW SIDEPODS*.
Sidepods replacement information here. We judge that black sidepods would look fine on this helmet (be sure to specify). $24 (as of this writing) plus shipping and handling.
---
Details
No reserve
Used helmet, good condition, NEEDS NEW SIDEPODS*
Size Large 7 1/4 - 7 3/8 (59-60cm)
Never crashed
RX-7RR4 "Corsair"
Includes smoke visor, which is in good but not flawless condition.
*Not only are the sidepod graphics compromised, but the internal tabs are broken. The replaceable sidepods themselves are compromised; the sidepod bases (also replaceable) appear to be fine. Sidepod graphics are compromised because they were stored with tape holding them; helmet has not been crashed and otherwise the finish is in good condition.
---
---
Photo Gallery