Pinarello Time Trial Frame Aluminum Carbon 56cm w Fork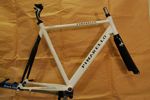 Description
Classic Pinarello time trial frame from the aluminum-carbon era. This bike won a Texas state time trial championship. This auction lot includes the frame, carbon fork and carbon seatpost, as well as incidental items such as adjustable cable stops, headset bearings and top race, and a seat post spacer.
White paint is in good condition but shows scuffs, primarily from rubbing cables. All carbon fiber—including rear seat stay unit, fork and seatpost—is in good condition, showing only minor scratches and scuffs.
Note threadless headset and threaded bottom bracket. Pre-owned (used) frame, fork and seatpost.
Details
No reserve auction
Purchased 2004
Serial Number: 2917-03 (perhaps suggesting 2003 manufacturing date)
Measurements

Frame size 56cm (center of bottom bracket to top of top tube)
Top tube: 56cm center to center
Head tube length: 158mm
Fork tube stack height: 79mm from top of frame (not headset race) to top of fork tube

Angles (We make no warranties on these angles; measured as best we can)

Head angle: 72 degrees
Seat angle: 72.5 degrees

Weight

Total of all items: 2460 grams
Frame with headset bearings, aluminum headset race, seatpost liner and adjustable cable stops: 1650 grams
Fork: 620 grams
Seatpost: 190 grams
---
---
Photo Gallery