Viking Cooking Ventilation Wall Hood Professional 18"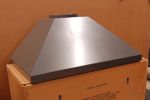 About
Factory new (uninstalled and unused) but scratched and not in box. Viking vent wall hood was a showroom display unit at a retailer in San Antonio. Purchased in 2007, it has been in storage since.
Details
No reserve auction
See our other Viking offerings
Sold as is: item is scratched (see photos) and needs attention from an automotive painter or equivalent.
Dimensions (inches) 36W/24D/14H
DOES NOT INCLUDE Ventilator Kit; see this document for more information.
Serial Number: 101507V00048431
Manufacturing Date: 15 October 2007 (Source: Viking)
Color: Graphite Gray
SHIPPING
Buyer pays shipping. Our shipping broker estimates freight charges on this item at +/- $160. For a freight cost quote, please email us with your delivery address and indicate if it is a business or residence. We will invoice the buyer for the auction final value plus shipping. The charge is a function of:
Delivery address type: delivery to business addresses is less expensive than to residential ones
Location: shipping to addresses nearer to Fredericksburg, Texas and to larger cities is less expensive than more remote addresses.
PICK UP
Local pickup available in Fredericksburg, Texas from our shipping broker: FBG Shipping. Sales tax applies if the item is picked up and not shipped out of state, regardless of the buyer's address.
---
---
Photo Gallery