Rollei 35 S Compact Film Camera and Case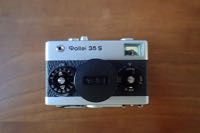 Description
Rollei 35 S Compact Film Camera and Case
Details
This little camera is in great condition and appears ready to go just about anywhere. The accompanying case is in good (but not great) condition (its soft fuzzy mouse-fur lining material has separated from the exterior medium-heavy vinyl material). Regardless, the case is still usable.
No reserve auction
Pre-owned
Serial Number: 2485070 (as shown on lens, the only place it appears)
The camera has a new battery and with it the light meter appears to be functioning. Moving the aperture and shutter speed settings results in the movements of the needles that one would expect. As for calibration of these indicators, we make no warranties (simply because we have not shot film in this camera and developed it). But, we do accept returns.
Note to buyer and shoppers: Retract the lens by first pressing the little button on top (the one with the two holes); then turn the lens and push it into the body and Do not retract the lens on these little Rollei cameras WITHOUT FIRST COCKING THE SHUTTER.
Ships with new 625A battery installed.
Instructions not included.
Strap not included.
---
---
Photo Gallery