Olympus Pen FT 35mm Film Half Frame Camera and Case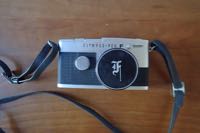 Description
Olympus Pen FT 35mm Film Half Frame Camera and Case
Details
This vintage camera is in good condition and with its newly inserted battery it appears the light meter and controls are working. They have not been tested nor calibrated recently, however, so we cannot guarantee their proper operation. But, we do accept returns. The case is still usable but is in somewhat worn condition.
F 1.8 / 38mm F. Zuiko Lens
No reserve auction
Pre-owned
Included lens cap lost its backing and consequently the cap does not stay on the lens readily.
Included carrying strap is in somewhat rough condition, but it is usable.
Serial Numbers: 156497 (camera) and 282838 (lens)
Ships with new 625A battery installed.
Instructions not included.
---
---
Photo Gallery