Cuisinart Blade DLC-8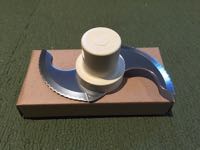 Description
Cuisinart Blade DLC-8 (DLC-8611lB)
Details
No reserve auction
New In Box
This blade replaces the original blade that was shipped with food processors but recalled by Cuisinart.
The recalled blade features metal rivets, whereas this one has no rivets and the blade attachment is molded to the blade.
Beware buying blades with metal rivets; do your homework; you may be buying a recalled article!
---
---
Photo Gallery