Canon Extension Tube -- EF12 with case and dust caps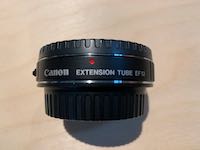 Description
Canon Extension Tube -- EF12 with case and dust caps
Details
No reserve auction
Condition is Used.
Good condition.
Made in Japan.
I have not tested this extension tube; if it does not work, send it back.
Except for the release button, which slides nicely, this component does not seem to have any moving parts. The condition is good to very good. Contacts are clean and mounting surfaces are in great shape.
Includes Canon storage sack, in very good condition. And includes two dust covers, both in good condition.
---
---
Photo Gallery